Etude du  Drone sous-marin Ibubble pour Notilo+ .

Design
Produit
L'agence, créée en 2009, accompagne les marques sur la création et la conception de produits dans les domaines très variés du sport, de l'outdoor, des arts de la table ou encore des produits pour enfants.
Flexible et réactive, elle propose tous les outils nécessaires à l'émergence de l'innovation produit. Elle offre une expertise en amont sur l'usage et l'identité produit mais, accompagne également ses clients sur la recherche de matériaux et les procédés de fabrication.
Avec ses partenaires indépendants Didier Epain, fondateur de l'agence, complète l'équipe de créatifs ou d'ingénieurs en fonction des projets afin d'offrir légèreté et réactivité.
Forte de prix de design en France et à l'étranger, Think Think Design est reconnu pour la conception de produits à forte valeur d'innovation et la qualité de son travail est récompensée par plusieurs étoiles du design.
Partenaires :
Bureaux d'études
Maquettistes / prototypiste
s / impression 3d

Patronniers textile
agence de communication
développeurs web

THINK THINK DESIGN est accrédité
CII Crédit Impôt Innovation
par la direction générale des entreprises sous le N° Siren: 513 232 454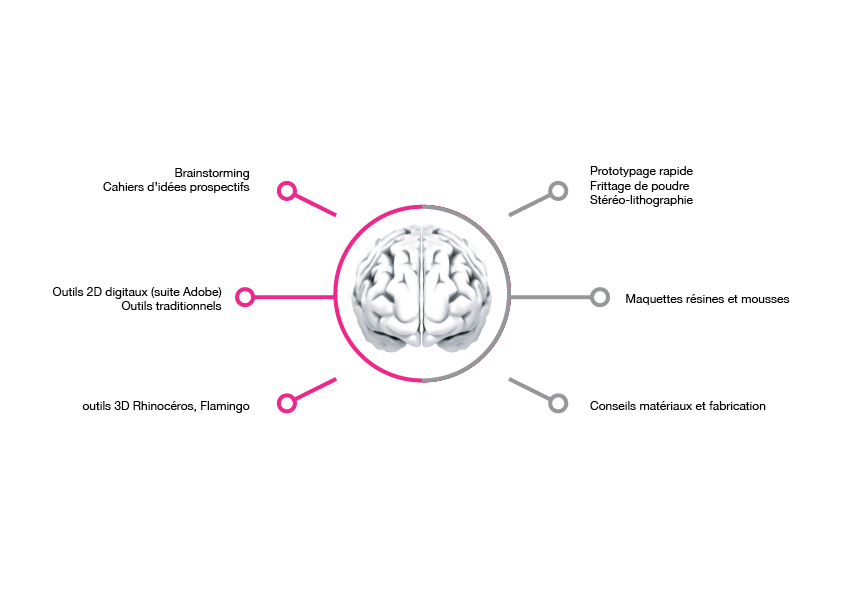 The studio  founded in 2009, supports brands from product creation to conception in a  diversity of sectors including sports gear, outdoor products, kitchen ware, children related products and more.
Flexible and reactive, it offers all the necessary tools to promote innovation in all projects and products. The studio offers guidance and expertise in the first project rounds on user experience and product identity, but also supports its clients through material research and choice as well as during the industrialization process.
With his independent partners, Didier Epain, studio founder, expands the creative or engineering team to fit the project requirements and insure a light and reactive process.
Think Think design has won multiple design awards both in France and abroad, ''CES innovative & design Winner'' ''Etoiles du Design awarded by the APCI '' or ISPO award, and his recognized for the quality and innovation value of its work.
- Creativity and prospective
- 2D tools skills: hand sketching, Adobe creative cloud
- 3D modeling Rhinoceros, Keyshot, Flamingo
- digital mockup, stéréo-lithographie
- traditional mockup, resin,/foam
- footwear and soft goods design
Professional partners:
R&D agency
mockup agency
patternmaker
communication agency
graphists
web masters
Think Think Design travail dans un esprit collaboratif avec l'agence de communication "La société secrète", regroupant des compétences en Web Design, communication multimédia et vidéo
.